My last post, Chiropractic Schools Requiring Vaccination, generated a lot of interest and has been shared and commented on so much it has broken my blog records. It continues to be shared.
If you haven't seen the comments check them out, they are fascinating. Interestingly, no chiropractic educators made any public comments but one privately wrote to me, sharing his disgust over how the profession has lost its moorings and doesn't know what it is teaching. Chiropractic used to be strong, standing up to medical prejudice. Chiropractic used to be referred to as an alternative healthcare system, now it's increasingly seen as complementary to allopathic medicine; it wants to fit in, to be accepted, to find its place under the medical umbrella.
One of the worst examples of professional sellout was an article that had appeared in The American Chiropractor regarding a chiropractor working with cancer patients. Was he turning on life so the patient's body would work better and deal with its tumors? Was he providing an alternative to drugs and surgery? Hardly. He was proud of how he helped make patients' necks and shoulders comfortable so they could receive chemotherapy in comfort. Ugh!
Sylvia Ashworth, DC
Sylvia Ashworth, DC was a leader in the chiropractic profession. She was married to Carl Cleveland Sr., founder of Cleveland Chiropractic College. Dr. Ashworth had an office filled with jars that contained tumors her patient has passed, sloughed off, vomited, coughed up, excreted or otherwise expelled under chiropractic care.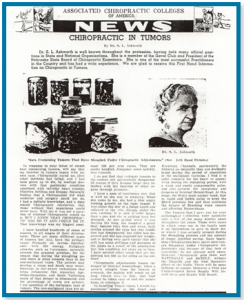 When she was 17 Sylvia Ashworth was told she had terminal cancer and to get her affairs in order. Instead, she got under chiropractic care and recovered. She helped many others.
Chiropractic did what medicine and surgery could not do…. I have handled hundreds of cases of tumors, in all stages of development. There are many different types of tumors but ALL have the primary cause: pressure on nerves-interference with life energy.
 I wonder what Dr. Ashworth would think of chiropractic care as a glorified painkiller, making patients comfortable so they could receive toxic drugs that kill more people than save them.
Yes, this blog is about chiropractic schools and vaccination, and if you'd like to read my blogs about cancer you won't be disappointed. Two articles are Why Did God Create Cancer? and The 3 Things Senator John McCain (and Anyone Else) Diagnosed with Brain Tumors Needs to Know. But first, let's update our college list.
Why update so soon?
Simply because new information has come forward. We need to update the list of chiropractic schools requiring vaccination and those schools that do not.
Logan College had been in the "no vaccines required." Hey, that's what they told me when I called. However, shortly thereafter I was informed that Logan has changed its requirements. I was sent this by a Logan instructor:
Logan College Immunization Policy: "This policy applies to all domestic and international students entering the university for the first time unless medical or religious exemptions pertain. All incoming students are required to have the following immunizations:
Diphtheria and tetanus
Tuberculin test
Measles
Mumps
Rubella
Meningitis
Hepatitis
Polio
2 doses of varicella
Td or Tdap within the last ten years
"This is mandatory. Failure to comply will result in registration being cancelled and/or restricted."
Overnight Logan College moved from the list of schools with "no vaccinations required" to one of the most heavily-vaccinated so-called chiropractic schools.
Philosophy
I recommend you read the prior article, Chiropractic Schools Requiring Vaccination, to understand how contrary vaccination is to the fundamental philosophical principles on which chiropractic is based.
Chiropractic schools requiring/recommending vaccinations
(updated list):
Chiropractic schools where no vaccinations are required:
Please forward this to as many concerned chiropractors and educators as you know. You may help make the changes that are needed. And I'm still very interested in hearing directly from the schools.
Dr. Koren, originally from Brooklyn, NY, lives in Montgomery County, PA. A graduate of the U of Miami and Sherman College of Chiropractic, he writes, lectures and teaches in the US, Europe and Australia as well as takes care of patients and fights for healthcare freedom. Dr. Koren and his wife Beth have two children.